ISO Standards
ISO14001
NSD quality and environment regulation management
NSD Corporation is a global manufacture and supplier of absolute position sensor and related systems with a wide range or industries and applications. The growth of position sensor market will be mainly triggered by the brooding of the spectrum of industry applications where the technology is used, as well as soaring demand of higher performance durability products and environmental system. All environmentally relevant processes at NSD Corporation are systematically monitored, evaluated and improved regarding resource protection and mission limitation. NSD Corporation is committed to providing quality products and service that fully meet customer and regulatory requirements through our strict quality improving process.
We comply with the agreement and regulation
We continuously improve our environmental management system
We continuously enhance our design and manufacturing system to reduce the discharge and/or emission of pollutants
We pursue a below action as an environmental management system

Energy Conservation
Resource Saving

Waste Decrees
ISO 14001 certification
| | |
| --- | --- |
| Standards | ISO 14001 : 2015/JIS Q 14001 : 2015 |
| Date of Acquisition | September 21st 2007 |
| Number of Acquisition | JQA-EM5904 |
| Certification Institution | Japan Quality Assurance Organization |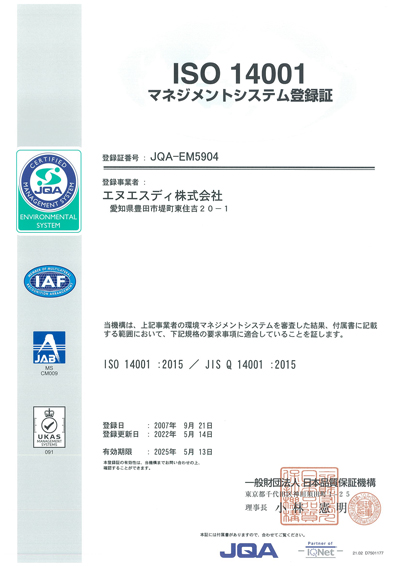 ISO9001
Quality Policy
The aim of NSD is to provide the customer quality criteria products, maintain and keep improving.
ISO9001 certification
NSD acquired ISO9001 and has implemented the quality assurance activity.
| | |
| --- | --- |
| Standards | ISO 9001 : 2015/JIS Q 9001 : 2015 |
| Date of Acquisition | April 4th, 2000 |
| Number of Acquisition | JQA-QM4661 |
| Certification Institution | Japan Quality Assurance Organization |