Magnetic Proximity Sensor ABSO PX®
Description

ABSO PX, NSD True Heavy Duty Magnetic Proximity Sensor was developed on use in harsh, high temperature, high vibration, water condition, and outdoor environment.
ADVANTAGE
True Heavy Duty
Its outstanding durability is achieved by a creative construction of design which eliminates any physical contacts, satisfies zero electronics, and any glass bulb inside sensor within a heavy duty stainless housing.
Maximum heat-resistance:150℃(Special 180℃ spec available)
Protection rating:IP67 / IP69K
Vibration resistance:2×102m/S2(20G)
Shock resistance:4.9×103m/S2(500G)
Contact NSD more details.
Eazy monitoring
Proximity is visibility with measuring the voltage through the terminal on the panel.
LED indicates "Sensor ON/OFF" and "Sensor disconnection error".
Extension cable up to 500m
Compact size converter with 2 sensor channels
Simple wire connections
System Configuration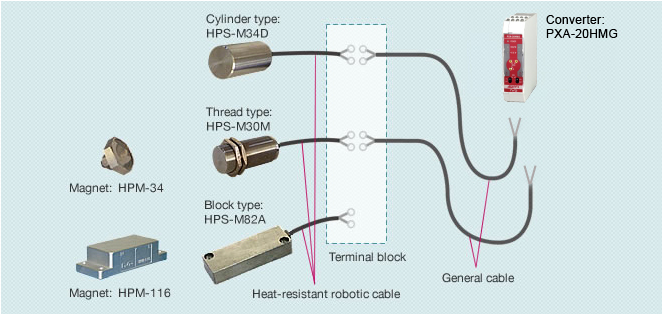 Model coding
ABSO PX has conditions for the combination of sensors and magnets.

Model coding
M18 Thread type
Φ34 Cylinder type
M30 Thread type
D82 Block type
D95 Block type
Sensor ※1
HPS-M18M-5
HPS-M34D-5
HPS-M30M-5
HPS-M82A-5
HPS-M95A-5
Magnet ※2
HPM-22
HPM-34
HPM-34
HPM-200 ※3
HPM-210 ※3
HPM-116
Converter
PXA-20HMG
Mounting bracket
(option)
M18L
M34K
M30L
ー

※1 The length of the interconnecting sensor cable is 5m.
※2 Select the magnet according to the desired detection distance.
※3 HPM-200 and HPM-210 are custom-made products that require specification confirmation.
Specification
M18 Thread type of sensor HPS-M18M
Combination
Item
M18 Thread type
Sensor
HPS-M18M-5
Mounting bracket
M18L
Magnet (Detecting distance)
HPM-22(9~12mm)
HPM-34(23~31mm)
Specification
Item
HPS-M18M-5
Mass
Sensor
0.35kg
Magnet
HPM-22: 0.1kg (Include nuts and spring weight.)
HPM-34: 0.1kg (Include nuts and spring weight.)
Converter model
PXA-20HMG
Detecting distance
9~12mm
23~31mm
Temperature drift
Max. -0.03mm/℃
Max. -0.05mm/℃
Hysteresis
3~5mm
2~9mm
Ambient temperature
Operating
-20~+150℃
Storage
-30~+150℃
Vibration resistance
2×102m/S2 {20G}
Shock resistance
4.9×103m/S2 {500G}
Protection rating
IP67 (JEM1030) / IP69K (ISO20653)
Interconnecting sensor cable
5m
Max. sensor cable length
CVV (1.25mm2×2 cores) 500m
Φ34 Cylinder type of sensor HPS-M34D / M30 Thread type of sensor HPS-M30M
Combination
Item
Φ34 Cylinder type
M30 Thread type
Sensor
HPS-M34D-5
HPS-M30M-5
Mounting bracket
M34K
M30L
Magnet (Detecting distance)
HPM-34(25~33mm)
HPM-210(258~278mm)
HPM-200(136~176mm)
Specification
Item
HPS-M34D-5
HPS-M30M-5
Mass
Sensor
0.55kg
Magnet
0.1kg (Include nuts and spring weight.)
Converter model
PXA-20HMG
Detecting distance
25~33mm
Temperature drift
Max. -0.05mm/℃
Hysteresis
2~9mm
Ambient temperature
Operating
-20~+150℃
Storage
-30~+150℃
Vibration resistance
2×102m/S2 {20G}
Shock resistance
4.9×103m/S2 {500G}
Protection rating
IP67 (JEM1030) / IP69K (ISO20653)
Interconnecting sensor cable
5m
Max. sensor cable length
CVV (1.25mm2×2 cores) 500m
D82 Block type of sensor HPS-M82A / D95 Block type of sensor HPS-M95A
Combination
Item
D82 Block type
D95 Block type
Sensor
HPS-M82A-5
HPS-M95A-5
Magnet (Detecting distance)
HPM-116(44~57mm)
Specification
Item
HPS-M82A-5
HPS-M95A-5
Mass
Sensor
0.55kg
0.65kg
Magnet
0.4kg
Converter model
PXA-20HMG
Detecting distance
44~57mm
Temperature drift
Max. -0.07mm/℃
Hysteresis
5~18mm
Ambient temperature
Operating
-20~+150℃
Storage
-30~+150℃
Vibration resistance
2×102m/S2 {20G}
Shock resistance
4.9×103m/S2 {500G}
Protection rating
IP67 (JEM1030) / IP69K (ISO20653)
Interconnecting sensor cable
5m
Max. sensor cable length
CVV (1.25mm2×2 cores) 500m
Converter PXA-20HMG
General specification
| Item | Specification |
| --- | --- |
| Power supply voltage | 24VDC±10% |
| Power consumption | 3W or less |
| Ambient operating temperature | 0 ~ +55℃ (No freezing) (Surrounding air temperature rating of 55℃ maximum) |
| Ambient operating humidity | 20 ~ 95 %RH (No condensation) |
| Ambient operating environment | Free from corrosive gases and excessive dust |
| Mass | Approx. 0.15kg |
Performance Specification
Item
Specification
Converter model
PXA-20HMG
Number of sensor inputs
2
Monitor LED
5 points POWER (Yellow), OUT-1(Green), OUT-2(Green), SE-1(Red), SE-2(Red))
Checking terminal for the monitor
Checking terminal: 2 points (MON-1, MON-2)
Ground for checking terminal: 1 point (MON-G)
Continuous OFF switch of contact output
2 points (SW-1, SW-2)
Output signals
4 points (OUT-1、OUT-2、NOR-1、NOR-2)
Output circuit
Non-contact output (non-polar)
Rated load voltage
100VAC / 24~48VDC
Rated load current
20mA
Max. load voltage
120VAC / 100VDC
Max. load current
50mA
On-state resistance
50Ω Max
Response time
OFF to ON:35ms
ON to OFF:30ms
Dimensions
Application Introduction