VR TENSION®
Description

VR TENSION is the new solution for Weight & Tension Detector with creative construction and drastic development for higher durability and flexible interface power.
Structure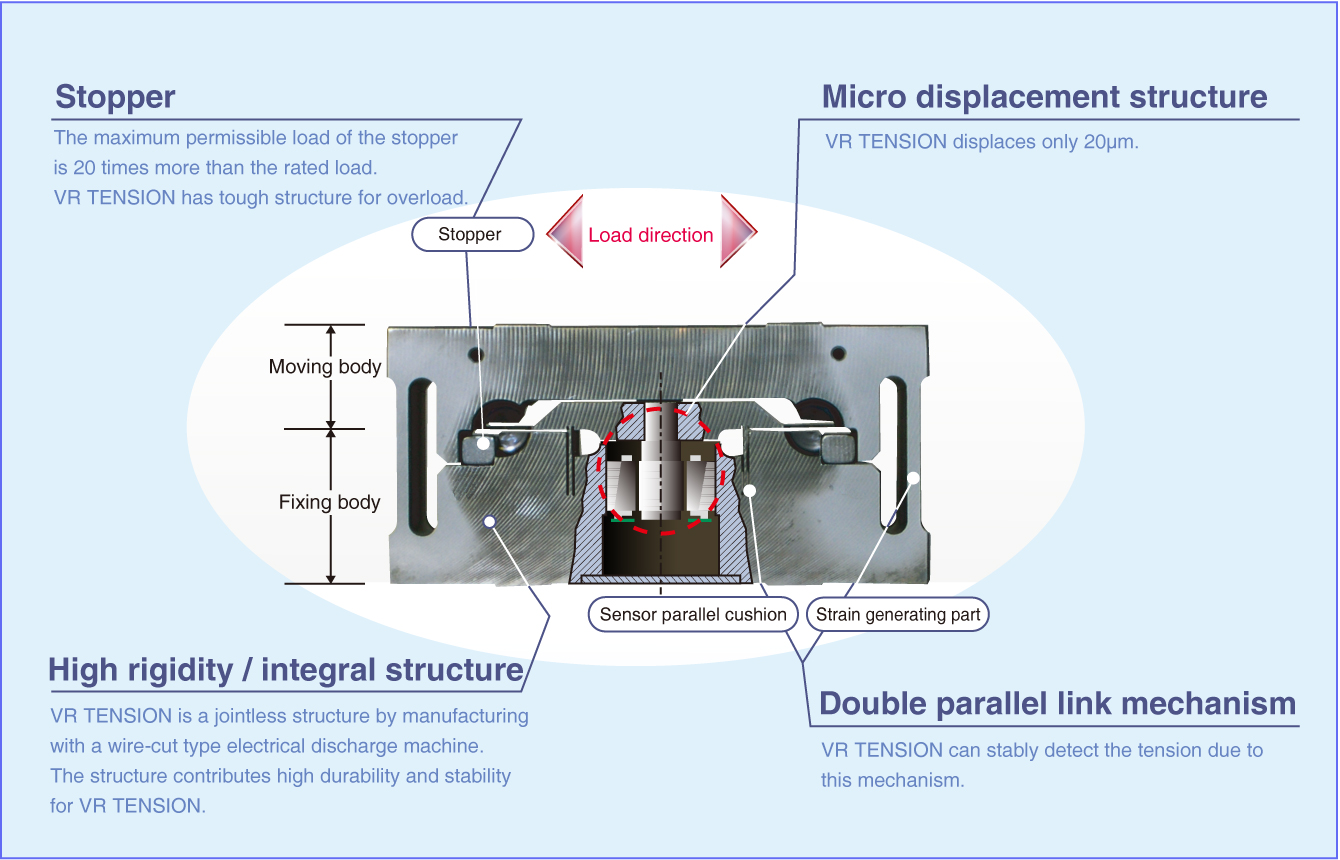 ADVANTAGE
No Zero Adjustment
"Zero-point" hardly misaligns with instantaneous overload or long-term use because of NSD's original structural design (integral and micro displacement structures, stopper mechanism).

Zero-point must be designated at the initial setting.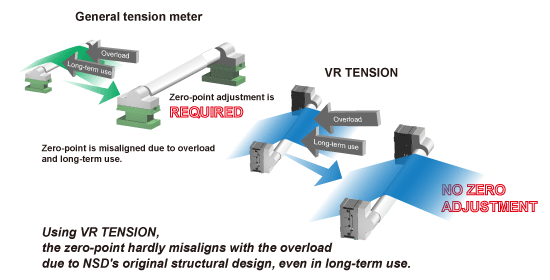 We suggest environment-proof products to meet your needs.
In addition to standard specifications, VR TENSION offers sensors that are optimal for various environments such as heat resistant, water proof, explosion-proof, and chemical resistant.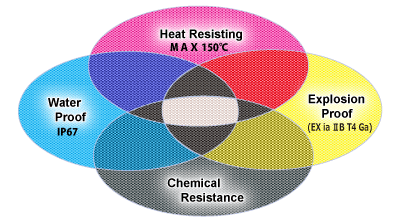 Low to high tension measurement
VR TENSION can detect from low to high tension levels in stable conditions.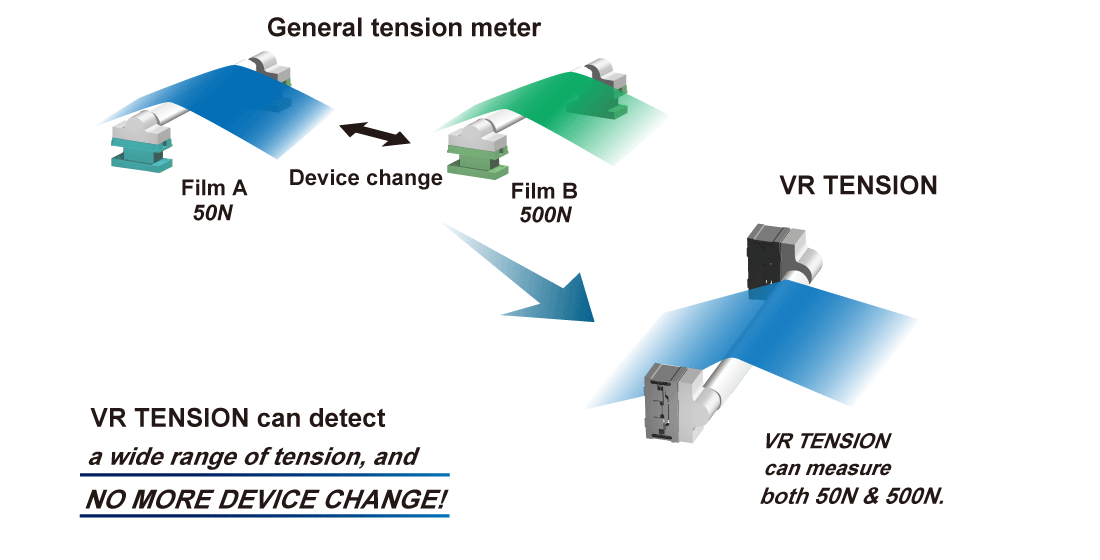 Usable with the cantilever roll
VR TENSION can withstand a weight over 20 times heavier than the rating load, and use for a cantilever roll.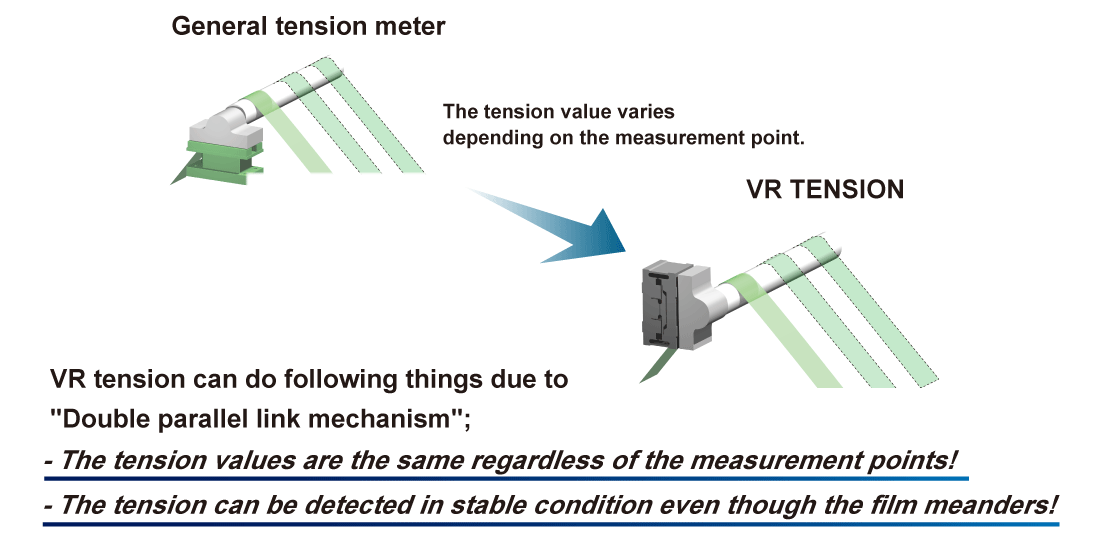 Obtuse angle supported
Tension can be securely detected even at points where it is difficult to apply tension, such as around the coater.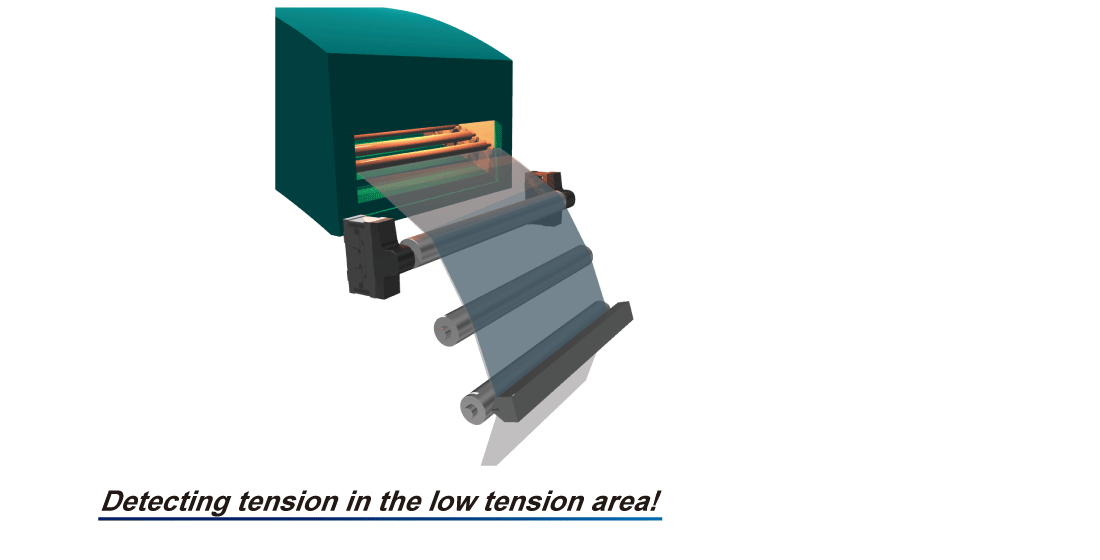 System Configuration
Please contact NSD for explosion-proof type.
Specification
Sensor specification
Item
Specification
Sensor specification

ST Series

SS Series

S Series
Load rating
1.96N
0.2kgf
4.9N
0.5kgf
19.6N
2kgf
49N
5kgf
Accuracy
±1%
Repeatability
0.2%
Resolution
0.12mN
[0.012gf]
0.3mN
[0.03gf]
1.19mN
[0.12gf]
2.99mN
[0.30gf]
Interconnecting sensor cable
2, 5, 10, 20m (Standard is 2m)
Max. sensor
cable length
Standard
100m
Robotic
100m
※1 The ST/SS series has a smaller rating load, which limits the range of use compared to other series.
When using the sensor in a mounting direction except horizontal, pay attention to the mass of the sensor's main body moving parts and the mass of the tare weight.
※2 The ST/SS series is not designed with "Double parallel link mechanism".
When installing the sensor, be careful not to apply the sensor unbalanced load to the component.
Item
Specification
Sensor specification

A Series

B Series
Load rating
98N
10kgf
196N
20kgf
490N
50kgf
980N
100kgf
1960N
200kgf
2940N
300kgf
Accuracy
±1%
Repeatability
0.2%
Resolution
5.98mN
[0.61gf]
11.96mN
[1.22gf]
29.9mN
[3.05gf]
59.8mN
[6.10gf]
119.6mN
[12.2gf]
179.4mN
[18.3gf]
Interconnecting sensor cable
2, 5, 10, 20m (Standard is 2m)
Max. sensor
cable length
Standard
100m
Robotic
100m
Converter specification
| Item | Specification |
| --- | --- |
| Power supply voltage | 24VDC(21.6~26.4VDC) |
| Power consumption | 10W or less |
| Mass | Approx. 0.4kg |
| Data display | 7-segment, 4-digit of LED |
| Number of detection axes | 2 axes |
| Analog filter | 12Hz |
| Sampling interval | 0.2 to 20ms (The multiple numbers of 0.2ms is set by the parameter.) |
| Calculation | A-axis, B-axis, A+B axes |
| External preset | None |
| Interface | 0 to 10V voltage, 4 to 20mA current |
Application Introduction